August 9th, 2007 by xformed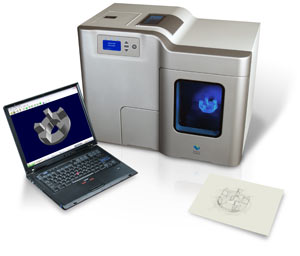 Desktop Factory Printer
About 90 lbs, and it can create 3D objects up to 5″x5″x5″, with the specs fed in from your CAD/CAM program. Just advanced bubblejet like printing technology. Layers are .01″ per pass.
Got about $5000 you don't need more than small parts fro your car, your home, or stuff just for fun?
This entry was posted on Thursday, August 9th, 2007 at 6:39 pm and is filed under Technology. You can follow any responses to this entry through the RSS 2.0 feed. Both comments and pings are currently closed.