October 7th, 2007 by xformed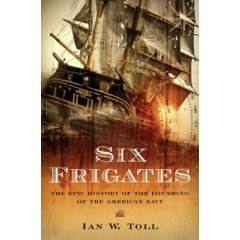 Ian Toll, author of the excellent book, "Six Frigates" will be at Olsson's Books and Records in Alexandria on 10/12/2007 for a reading signing event.On 10/19/2007, he will be at Bay Books in Coronado, CA, doing a reading and signing.
Check out excepts from Chapter 1. If you haven't picked up this book yet, and love early American history, don't miss this writing!
Category: Book Reports, Military, Military History, Navy, Public Service | Comments Off on Mark Your Calendars, DC Area/San Diego Residents! "Six Frigates" Author Events