September 30th, 2015 by xformed
Table of contents for From the Desk of Col Dodenhoff
From the Desk of Col George Dodenhoff, USMC – Part 3

Subtitle: First Flight
On September 10th, 1943, Dode made his first recorded flight. He would have been sitting in the forward seat, with Lt Doran (service unidentified – it could have been wither a Marine, or, maybe more likely due to the missing "2" or "1," may well have been a Naval aviator) in the rear seat as his instructor pilot.
Flying 1.5 hours, he began his career as a Marine Aviator. Without comment in the notes section, it must have been a routine flight.
Based on the equipment issued page (the one preceding this page), I'm going to presume the flight occurred at Naval Air Station, Corpus Christi, TX.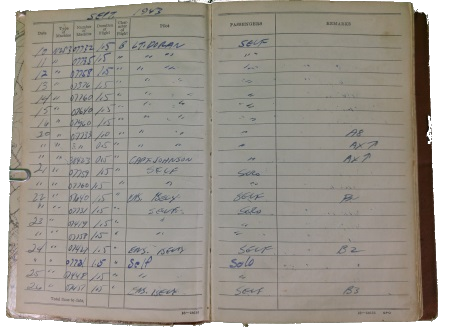 Click for a larger image
His aircraft logged was the ubiquitous N2S, the legendary primary trainer in WWII, but better known to many as the Stearman PT-17, Bureau Number (or "BuNo" in official abbreviation for future reference in this series) 07732. The particular variant, the -3 version, one of 1875 delivered to the US Navy, with the Continental R-670-4 Radial engine.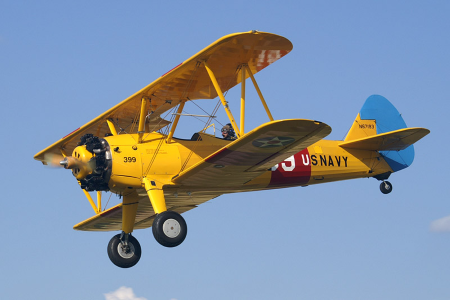 Click for a larger image
"Boeing Stearman N67193" by Juergen Lehle – Own work (See also AlbSpotter Flugzeugbilder Aircraft Photos). Licensed under CC BY-SA 3.0 via Commons
The actual manufacturer's formal designation was the
Boeing-Stearman Model 75
The N2S was the Navy designation. for the aircraft. In this regard, he was having the common experience for the aviators of this time. This airframe was used by the US and Canadian forces, with over 10K of them being made between the production in the 30s and 40s. After WWII, they were sold as surplus, helping kickstart the General Aviation market for private pilots. These surplus planes were widely used for crop dusting and airshows for wing walkers.
Some of the type of training for flying Col Dodenhoff would have received would have been like what is contained in this WWII flight training video:
This entry was posted on Wednesday, September 30th, 2015 at 11:03 pm and is filed under Aviation, Col Dodenhoff, History, Marines, Military, Military History. You can follow any responses to this entry through the RSS 2.0 feed. Both comments and pings are currently closed.