October 7th, 2015 by xformed
Table of contents for From the Desk of Col Dodenhoff
From the Desk of Col George Dodenhoff, USMC – Part 4

Subtitle: First Solo
On September 21st, 1943, the Colonel took to the skies by himself. A critical step in the process of learning to fly anywhere, he did so with a total of 12 recorded dual control fight time. He would have been sitting in the aft seat of the N2S-3 BuNo 07759. As a point of reference by today's training, a civilian private pilot's license first solo flight doesn't have a set number of hours to have, but it is at the discretion of the flight instructor to allow the first individual journey into the sky. I would assume (not being an aviator), similar in the military training realm.
He was aloft for 1.5 hours over NAS Corpus Christi (again an assumption on the location). with no notes at all, so it had to be a normal flight. I can't find anything specific regarding the syllabus for a solo flight during that period, but I'm sure in included a variety of skills to be practiced.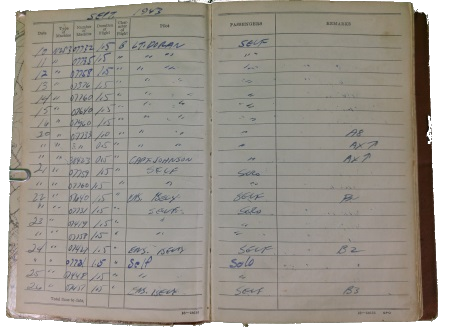 Click for a larger image
Here's some more historical video regarding Navy flight training, but not specific to the first solo flight.
This entry was posted on Wednesday, October 7th, 2015 at 2:21 pm and is filed under Col Dodenhoff, History, Marines, Military, Navy. You can follow any responses to this entry through the RSS 2.0 feed. Both comments and pings are currently closed.