October 16th, 2015 by xformed
Table of contents for From the Desk of Col Dodenhoff
From the Desk of Col George Dodenhoff, USMC – Part 5

Col Dodenhoff – Total Flight Hours 1943 Page – 19431226-450w.png
Subtitle: Still in training in Dec 43
Col Dodenhoff had done plenty of flying in September and October of 43, but only had one flight in November, at Naval Air Station, Pasco, Washington, closeing out the year with 3 flights at Naval Air Station, Corpus Christi.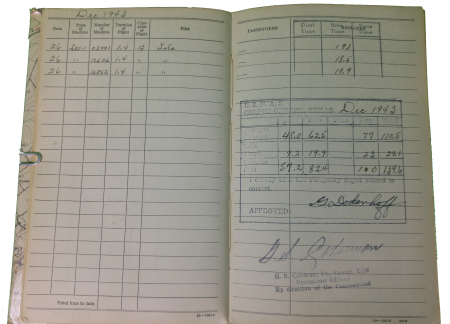 Click for a larger image
Just preceeding this time frame, the Marine Corps had just wrapped up the assault on Tarawa, one of the major battles of the Pacific, that defined the future of amphibious landing tactics and equipment.
Dode now has a total of 139.6 hours in the air, across 100 flights. Of that time, now 82.4 hours have been as a solo pilot, still in the standard basic primary trainer, the N2S-3.
This entry was posted on Friday, October 16th, 2015 at 11:25 pm and is filed under Col Dodenhoff, History, Marines, Military, Military History. You can follow any responses to this entry through the RSS 2.0 feed. Both comments and pings are currently closed.