October 7th, 2007 by xformed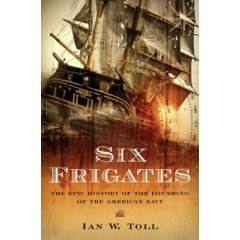 Ian Toll, author of the excellent book, "Six Frigates" will be at Olsson's Books and Records in Alexandria on 10/12/2007 for a reading signing event.On 10/19/2007, he will be at Bay Books in Coronado, CA, doing a reading and signing.
Check out excepts from Chapter 1. If you haven't picked up this book yet, and love early American history, don't miss this writing!
This entry was posted on Sunday, October 7th, 2007 at 1:59 pm and is filed under Book Reports, Military, Military History, Navy, Public Service. You can follow any responses to this entry through the RSS 2.0 feed. Both comments and pings are currently closed.