January 1st, 2008 by xformed
Me like….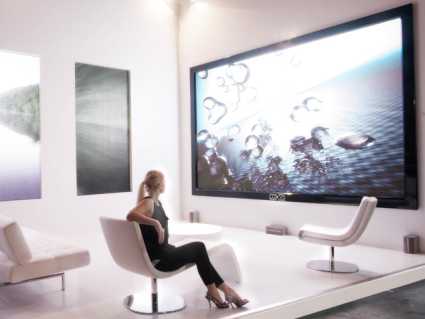 Can you guess? Well, I'll tell you, since you don't know how tall she is: 205 INCHES! of viewing experience. From
Luxio
in Italy.
Have a spare $610K (and the cost of shipping and installation, too)? I hope so, because until enough of the well off buy these, you can bet the prices aren't going to get any cheaper.
If you're on a budget, you can get these fine TV screens in 90″, 120″, 150″ and 180″ sizes, too.
And in case you're one of those engineer types, you'll need to support the 1041 lbs of weight to go along with the 1500 nit contract and 10,000:1 brightness.
For you XBox gamers, I'd wait: The resolution is only 1344×768. Stuff there will look kinda chunky at that setting…
This entry was posted on Tuesday, January 1st, 2008 at 8:34 am and is filed under Technology, Technology Tuesday. You can follow any responses to this entry through the RSS 2.0 feed. Both comments and pings are currently closed.