July 7th, 2007 by xformed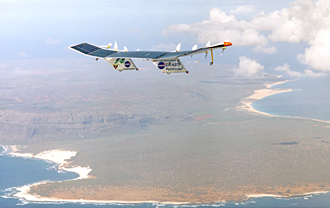 Solar Challenger in flight (Click the pic for more of the story)
Maybe everyone flying to
"We have to make carbon to reduce it" Live Earth Concerts
should consider investing in this type of aircraft, before they foul my breathing air anymore.Oh, and Solar Challenger successfully crossed the English Channel this day in 1981 (5 hours 23 Minutes)….
Al Gore, please call NASA flight schedule and ticketing office!
This entry was posted on Saturday, July 7th, 2007 at 11:10 am and is filed under History, Humor, Science, Technology. You can follow any responses to this entry through the RSS 2.0 feed. Both comments and pings are currently closed.