September 20th, 2008 by xformed
Tuesday morning began in with the standard shipboard routine. Reveille, breakfast for the crew, muster for instruction and inspection, Officer's Call and turn to, commence Ship's work.
On the other hand, it was not routine, as we couldn't fulfill our assigned duty of providing deck services for HSL-44. Later in the morning, the CO got us working to enter port at Naval Station Mayport. With permission, we moored that afternoon on the quay wall at the north east side of the basin, starboard side to. The Chief Staff Officer of Destroyer Squadron 8, offering us a hand since this wasn't our homeport.
The reason for the circumstances? Hurricane Hugo, which was about 700 miles SE of Mayport, with 110 mph of wind, generally headed somewhere towards the East Coast.
A meeting on the base in the afternoon yielded a decision by the Naval Station Commander, a helo pilot by trade, that there would be no sortie for storm avoidance. His determination was made on the capability of the basin to take up to 60 mph of winds.
That decision didn't sit well with my CO.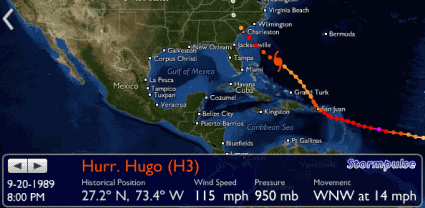 This entry was posted on Saturday, September 20th, 2008 at 8:00 am and is filed under Navy. You can follow any responses to this entry through the RSS 2.0 feed. Both comments and pings are currently closed.