October 18th, 2007 by xformed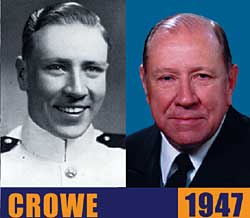 Former Chairman of the Joint Chief's of Staff, AMD William Crowe died today.
A 1947 Naval Academy graduate and a submariner, Crowe served as an assistant to President Eisenhower's naval aide, as executive officer of the Tang-class diesel/electric submarine Wahoo, captain of another Tang-class boat, the Trout, and then a string of other command and staff assignments, culminating with his appointment in 1980 to be commander in chief of allied forces in Southern Europe and his appointment in 1983 to be commander in chief of U.S. Pacific Command.

President Reagan tapped him to be chairman of the Joint Chiefs of Staff in 1985, a position in which he served until 1989. During his tenure Congress passed the Goldwater-Nichols Act of 1986, a sweeping measure that unified many aspects of a then-disconnected military and formally made Crowe, as Joint Chiefs chairman, the senior-most U.S. military officer.
[…]
He later served as our Ambassador to England, as well. The funeral will be held Oct 31st at the Naval Academy.
This entry was posted on Thursday, October 18th, 2007 at 1:42 pm and is filed under History, Military, Military History, Navy. You can follow any responses to this entry through the RSS 2.0 feed. Both comments and pings are currently closed.