July 26th, 2007 by xformed
While they have the reputation of "Fighting SEABEEs," they most often are without their rifles in their hands, because they have to man a shovel or the controls of heavy construction equipment. News feed from U.S. Central Command: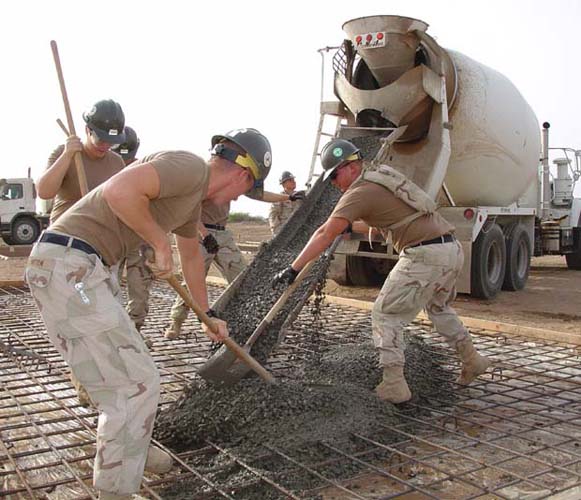 U.S. Navy photo by Lt. Edward Miller
NMCB-133 drilling wells, building schools in the Horn of Africa
26 Jul 07
by MC1 Mary Popejoy
CJTF-HOA Public Affairs

The Seabees of Naval Mobile Construction Battalion-ONE THIRTY THREE Detachment Horn of Africa at Camp Lemonier have been deployed to the Combined Joint Task Force-Horn of Africa area of operation since Feb. 5 performing well drilling operations, school building projects and other quality of life projects throughout East Africa.

Seabees from Naval Mobile Construction Battalion ONE THIRTY THREE pour concrete into a concrete pad located inside the expansion area of Camp Lemonier May 15. The concrete pad project is just one of three projects the Seabees are responsible for on Camp Lemonier. The Seabees, more than 130 strong, are currently in Djibouti, Ethiopia and Kenya providing each community with much-needed assistance to improve the quality of life in each area. Each project the Seabees have taken on aligns with the task force's mission of preventing conflict, promoting regional stability and protecting coalition interests in order to prevail against extremism. This mission is accomplished by partnering with nations on humanitarian assistance, civic action programs such as school and medical clinic construction and water development projects.
[…]
For Builder 2nd Class Gabriel Kelly, it provides a lot of personal satisfaction being able to build structures in a country such as Africa.

"It is very rewarding to be able to use the skills I have and provide a better way of life for the people who use the facilities in the future," he said.

According to BU1 (Seabee Combat Warfare) Michael Cadoret, project manager for Camp Lemonier, the end result of each project makes it completely worthwhile.

"The best part of any project is seeing the smiles on the kids' faces and how happy they are to have a new and improved building for them to use," he said. "Seeing the effect and impact our projects have on a community make the long hours completely worth it."

Leaving the community with a good impression of the U.S. military is an important and critical part of every mission.
[…]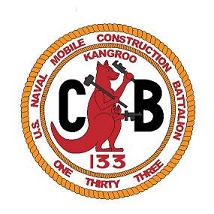 From the NMCB-133 Official Navy Website, the "Running Roos" are from the Naval Construction Battalion Center in Gulfport, Mississippi, the home of the Atlantic Fleet Seabees. NMCB 133 is currently on its 2007 deployed to SWA, HOA, Belize, Sae Tome, Nicaragua, Cuba, and Rota. Commanding Officer: CDR Paul J. Odenthal, P.E., CEC, USN.Sounds like a busy bunch. BZ to NMCB-133 for the work they do around the world!
Subscribe to the CENTCOM RSS news feed here.
Current CENTCOM press releases are here.
This entry was posted on Thursday, July 26th, 2007 at 11:38 am and is filed under Geo-Political, History, Military, Navy, Public Service. You can follow any responses to this entry through the RSS 2.0 feed. Both comments and pings are currently closed.