November 10th, 2009 by xformed
I attended a cake cutting ceremony Saturday morning, with the local heroes. Over of the establishment funded the early in the day meal as his thank you to some old war horses, and some of the rest of us who wore a uniform who sit around and tell sea and war stories, and we all take them in stride. None the less, thre is some evidence here. And those who have eagle eyes, will know what they know, others: Enjoy the picture!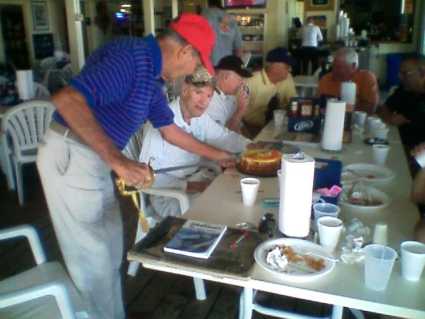 The Oldest marine was cutting the cake, began in 1942 and flew PBYs for the cause. The next one over, the youngest Devil Dog started in PBJs, and still has the first 75mm shell he fired from same…chromed, full of change.
The guy in the orange T flew something called Slicks for the Army…was only 4 hours short of the one year tour for combat hours…but he thinks these guys are heroes.
I'm a really lucky guy.
Category: History, Marines, Military, Military History | Comments Off on Happy Birthday, USMC!