September 18th, 2015 by xformed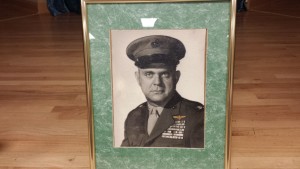 "Dode" was a WWII veteran, joining the Marines in 1942. His first combat was on Okinawa with VMF-311, the Hell's Belles, flying CAS missions in the F4U-8. Of note, VMF-311 were the first to use the F4U in the close air support role. His career later had him assigned to the famed VMF-214 in Korea, flying CAS for the Chosin Reservoir battle. He continued on to complete a 29 year career, comprised of a cross training assignment with the USAF flying the F-86 and serving in the Congo, Vietnam, and other duties that included a tour at the Naval War College. He passed away August 6th, 2015.
I have been provided access to the items from his desk, where I spent a number of hours, working on his computer and listening to the stories of an old warrior and leader over about a decade. My intention is to put together as much material as is possible from his notes, log books and models and document my recollection of his career oral history I was able to hear.
For the first stop, with his wife, Priscilla's permission, is to share the memorial service for Col Dodenhoff.
More to follow in a series I'll post as "From the Desk of Col D."
Category: History, Leadership, Marines, Military, Military History | Comments Off on Fair Winds and Following Seas: COL George Dodenhoff, USMC, Ret