October 19th, 2009 by xformed
Subtitle: Old Wisdom for New Warriors – Brown Water Navy Style
I continue to be blessed by meeting very interesting military people, with pieces of personal hispty they are willing to share. This one came as a friend shared his friends forwarded email, with speech attached. In the words of the man who gave the speech, I'll let him set the stage:
Thought you would like to read a bit long but I think appropriate speech for this timeframe that I gave to the Riverine Warfare graduating class at Camp Lejeune, North Carolina last June. Linda and I were hosted the night before to dinner and drinks by the instructors and put up in a great hotel nearby (all the VIP quarters on base are now reserved for generals or admirals and no longer any 06 officers). The individual who directs the course is a Coast Guard Captain and the person who coordinated the visit was a Chief Lewandowski who just happened to be from my wife Linda's birthplace of Grand Forks, North Dakota.( I completely lost Linda during dinner but that is why I refer to him in the speech).

I was invited to be the guest speaker for the graduation because our East Coast Chapter of the Gamewardens (Brown Water sailors from the Vietnam era) has spent many hours passing along lesson learned to the new Riverine Warriors based here at Little Creek. Our group provides a speaker for each graduating class. There are currently four Riverine Squadrons under a Commodore assigned and they are protecting the lakes, dams and waterways of Iraq. Once a year we present a Gamewarden Beret and plaque to the top sailor from each squadron and make them an honorary Gamewarden. They are then permitted to wear the Beret to all special functions of the squadrons. Our national organization president normally attends to make the presentations. We do it at a large picnic at Seal Park at Little Creek (pic of Gamewardens at park attached) and the CO of the base, Commodore and families of many of the Riverine Warriors attend, especially those being honored. We also have bonded with the USS Williams, which is named for BM1 Williams who won the Medal of Honor in the PBR's in Vietnam, and are invited to participate in all their ship functions including family day cruises.

As you will note, I extracted almost verbatim from the LeMay and Style points article and believe I gave it the proper credit. I spent a considerable amount of time in question and answer periods both before and after the speech. It was well received and I felt honored to be able to address them.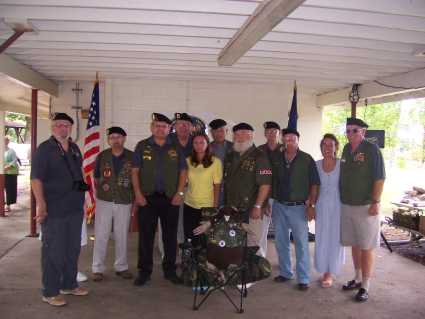 The speaker was CAPT Frederick Olds, USN (Ret). His has a 30 years distinguished career, covering service to the nation from pre-Vietnam to the Gulf war, to, in retirement, even as recent as this past summer, when he and his shipmates, who plyed the rivers and deltas of Vietnam, have actively been assisting the modern "Brown Water Navy" by passing along the lessons learned in armed conflict, with a determined enemy.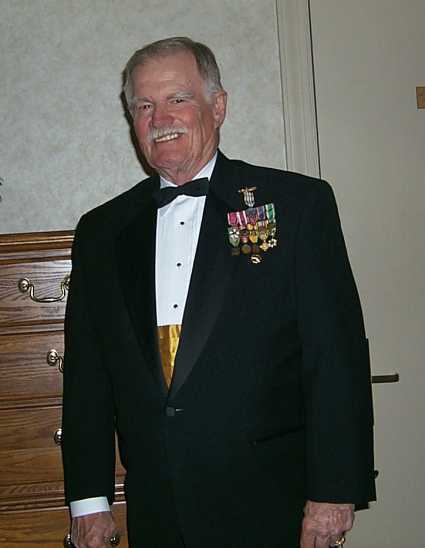 The "resume" of this Tin Can/Gator/Brown Water Sailor:
Frederick A. "Fred" Olds Wife: Linda Sue Lohrbauer
Virginia Beach, Va. Children: Bradley. Stacey, Shelley
Retired 1989 as Captain/USN from duties as ACOS for Logistics SACLANT with 35 years service.
Served aboard destroyers LLOYD THOMAS (DD-764), LUCE(DLG-7), FURSE(DD-882), FRANCIS MARION(LPA-249),
Afloat staffs PHIBGRU 2, PHIBGRU 3, COMCRUDESFLOT 6, CARGRU 4.
Commanded USS SUMTER (LST1181), USS AUSTIN (LPD-4)
COMMODORE PHIBRON 5
Spent one year in Mekong Delta Vietnam w/PBRs/VN RAGS and as Flight Technical Observer in FAC aircraft. Spent 3 wonderful years at USNA teaching navigation, coordinating the Piloting Curriculum and as XA to the Director of Naval Command and Management. Conducted SPECOPS off MURMANSK, Russia 1979, was present when bomb blew up USMC Barracks Beirut 1983, as COMMODORE PHIBRON 5 completed with my USMC counterpart the first USMC SPECOPS certification on the West Coast and deployed with the first LCAC to WESTPAC in 1987. Upon retirement obtained USCG unlimited tonnage MASTER'S LICENSE. Served as Chief Mate
USNS CHAUVENET during Desert Shield and Master USNS KANE during Desert Storm.
Linda continues her volunteer work and we love Virginia Beach. We enjoy visiting with our 6 grandchildren and their families whenever possible.
Here is his speech:
CAPT WEIDEN, BOATSWAINS MATE CHIEF LEWENDOWSKI, STAFF INSTRUCTORS, BUT PRIMARILY YOU NEW "RIVER RATS"–THIS IS YOUR DAY. AS THE NEWEST BREED OF RIVERINE WARRIORS, I BROUGHT ALONG A BILLY RAT TO WELCOME YOU TO THE FRATERNITY OF BROWN WATER SAILORS. DURING THE BIO INTRO IT INDICATED I HAD 19 YEARS SEA DUTY OF 30 YEARS COMMISSIONED. MY WIFE LINDA WAS A NAVY WIFE DURING ALL OF THOSE YEARS AND YOU HAVE HONORED US BOTH BY PERMITTING US TO PARTAKE IN THIS CEREMONY.

YOU ARE NOW MEMBERS OF A BROTHERHOOD THAT STRETCHES BACK CENTURIES, NOT JUST TO MY TIME IN VIETNAM. A FEW YEARS AGO I WAS THE GUEST SPEAKER AT DR. BRUCE DUNNAVENT'S CLASS AT LSU. HE WAS IN THE FINAL STAGE OF COMPLETING A BOOK ON RIVERINE WARFARE IN THE CIVIL WAR. IT HAS SINCE BEEN PUBLISHED. AS BILL FERGUSON, A FELLOW GAMEWARDEN AND THE AUTHOR OF A BOOK ABOUT THE PBR'S IN VIETNAM TITLED "LAUGHTER ON THE RIVERS OF DEATH" WROTE: "THE TIES BETWEEN US MAY NOT BE VISIBLE TO THE UNINITIATED BUT BE ASSURED, THEY COULD NOT BE STRONGER!"

IT IS A COMMON AXIOM THAT "THOSE WHO FORGET HISTORY ARE BOUND TO REPEAT ITS MISTAKES!" IN A SMALL SENSE SOME OF THE LESSONS WE LEARNED AND I PASS ON TODAY MAY PREVENT THE ONE MISTAKE THAT COULD COST YOUR BOAT CREW LIVES. YOU HAVE COMPLETED YOUR NAVY COMBAT SKILLS TRAINING HERE AT CAMP LE JUENE (PRONOUNCE IT AS LA GERRN) BUT FACE CHALLENGES THAT I COULD NOT IMAGINE IN MY EARLY NAVY DAYS.

I HAVE ALWAYS CALLED IT LIKE IT IS AND BEEN HONEST AND STRAIGHT FORWARD WITH MY MEN. TODAY I INTEND TO DO THE SAME. WHEN I ENTERED THE SERVICE, OUR CONGRESS WAS FILLED WITH VETERANS AND THE NAVY WAS A FAST PACED, HARD DRINKING, FULL SPEED AHEAD "DAMN THE TORPEDOES" ENVIRONMENT. IT WAS NOT A "COW PADDY" FILLED POLITICAL PASTURE WHERE EACH STEP COULD END YOUR CAREER.

AUTHOR WARREN KOZAK HAS WRITTEN AN ARTICLE TITLED "WHEN BASIC SURVIVAL OF A COUNTRY TRUMPS CIVIL LIBERTIES" AND ON THE SUBJECT OF WAR HAS RECENTLY PUBLISHED A BOOK TITLED "LEMAY: THE LIFE AND WARS OF GENERAL CURTIS LEMAY". AS A YOUNG LT, GEN LEMAY WAS MY FATHERS MOST EXPERIENCED NAVIGATOR ON A NUMBER OF HISTORICAL FLIGHTS IN B-17S PRIOR WWII. LEMAY ACTUALLY CONSIDERED WAR A TRAGEDY! YET HE WAS RESPONSIBLE FOR MORE WAR DEATHS THAN ANY OTHER INDIVIDUAL IN HISTORY, LATER HIS ACTIONS IN COMBINATION WITH THE ATOMIC BOMB SAVED MILLIONS MORE BY CONVINCING THE JAPANESE TO SURRENDER.

I FOUND THE FOLLOWING EMAIL "LEMAY AND STYLE POINTS" WORTH CONSIDERATION BY US ALL. I HAVE ADDED SOME COMMENTS BUT THEY ARE FEW AS IT IS TO THE POINT! (FOR THE READER OF THIS SPEECH, THOSE SECTIONS UNDERLINED I HAVE ADDED)

"IF WE CAN MOMENTARILY SHIFT OUR FOCUS FROM WHETHER THE BUSH ADMINISTRATION WAS "MEAN" TO THREE TERRORISTS FIVE YEARS AGO (ONE OF WHOM BEHEADED AN AMERICAN CITIZEN, DANIEL PEARL, AND BRAGGED ABOUT IT) LET US CONSIDER THE TOPIC OF WAR. ONE OF THE MOST COMPLEX OF HUMAN ENDEAVORS INVOLVING EVER SHIFTING TECHNOLOGY, GEOGRAPHY AND A BEWILDERING MIX OF RACE, RELIGION, REGION, ECONOMICS AND ETHNICITY.

ATTEMPTING TO CLEARLY EXPLAIN WAR IS LIKE ATTEMPTING TO EXPLAIN ICE HOCKEY TO PEOPLE WHO HAVE NEVER SEEN SNOW. NOT IN THE LEAST BECAUSE OF THE RAPIDITY OF CHANGE IN WEAPONS, VALUES AND PERCEPTIONS AS YOU ARE NOW FACING. OLD SHIP AND BOAT DRIVERS ARE NOT PARTICULARLY HELPFUL TACTICALLY BUT DO REVEAL USEFUL AXIOMS. ON THE SOLDIER SIDE SUN TZU STILL MAKES A LOT OF SENSE.

HOWEVER IN OUR SOCIETY TODAY, AN EVER SMALLER PERCENTAGE OF PEOPLE HAVE EXPERIENCE OR CONNECTION WITH WAR. THIS IS ESPECIALLY TRUE WITH THE MEMBERS OF OUR CONGRESS. WAR HAS BECOME THE EQUIVALENT OF A TRIP TO THE ZOO, INTERESTING BUT NOT RELEVANT TO THEIR LIVES EXCEPT AS A DISCUSSION TOPIC.

LEMAY STYLE POINTS INCLUDE:

1. THERE ARE NO WAR "STYLE POINTS" TACTICALLY, ONLY STRATEGICALLY. YOU NEED TO WIN. IN HOCKEY IT IS GOALS THAT COUNT, NOT SKATING. STYLE CAN BE ADJUSTED AFTER VICTORY IS ACHIEVED. LEMAY, FOR EXAMPLE, WAS A GRADUATE OF THE EARLY HIGH ALTITUDE AND SUICIDAL B-17 RAIDS OVER EUROPE YET LATER CHANGED THE BOMBING STYLE OVER JAPAN TO LOW LEVEL FIRE BOMBING.

2. IN ICE HOCKEY (BEING FROM NORTH DAKOTA CHIEF LEW CAN CERTAINLY EXPLAIN THIS RELATIONSHIP TO YOU BETTER THAN I) THERE ARE RULES AND THEY ARE ENFORCED. IN WAR THERE ARE RULES BUT ONLY FOR THOSE THAT ACCEPT THEM. (THE HISTORY OF MAN IS A HISTORY OF EVER LARGER CONSTITUENCIES, THE UNITED NATIONS, NATO AND THE EUROPEAN UNION BEING THE ONES MOST NOTICEABLE IN OUR LIFETIMES. OTHERS, THE WARSAW PACT, FOR EXAMPLE, FAILED BECAUSE THEY WERE BASED ON A FALLACY. THE LARGE CONSTITUENCIES WE BELONG TO ACCEPT AND ADHERE TO RULES.) OTHERS DO NOT, WHICH MAKES WAR WITH THEM COMPLEX AND IRRITATING AS IT DID IN MY TIME IN VIETNAM. THERE IS NO CHANGE HERE FOR WHAT YOU WILL BE FACING.

3. THE AMERICAN WAY OF WAR, (HIGH TECH, LOW MANPOWER–(LOOK AT OUR MAJOR WARSHIPS TODAY) IS GREATLY INFLUENCED BY THE MEDIA, MOST OF WHOM ARE NATURALLY CRITICAL. THIS RESULTS IN ANIMOSITY BECAUSE IT GETS MILITARY PEOPLE KILLED. IT IS PARTICULARLY IRRITATING BECAUSE JOURNALISTS OFTEN ASSUME INTELLECTUAL SUPERIORITY WHILE DECLINING RISK. EVEN WORSE, AS CLINTON'S SECDEF LES ASPIN DEMONSTRATED WHEN HE WITHHELD ARMOR FOR MOGADISHU, RESULTING IN BLACKHAWK DOWN! WHY? BECAUSE HE FELT IT WOULD INDICATE ESCALATION, IS LEARNED INCOMPETENCE ON THE PART OF ACADEMICS IN POSITIONS OF AUTHORITY.

4. WAR IS TIME RELEVANT. JUDGMENTS MADE IN WAR CAN ONLY BE UNDERSTOOD IN TERMS OF THE TIME IN WHICH THEY WERE MADE. THE BOMBINGS OF DRESDEN AND JAPANESE CITIES WERE BARBARIC. THE TIMES WERE BARBARIC. AS GENGHIS KHAN ONCE REMARKED, "REGRET IS THE SON OF PITY". OR AS THE RUSSIANS NOTED AS THEY DEALT WITH THE FROZEN AND STARVING RETREATING NAPOLEONIC ARMY AND THE NAZI POWS FROM STALINGRAD, "WE DID NOT INVITE THEM HERE".

5. PEOPLE ADAPT. AMERICANS ESPECIALLY. OUR USUAL NATIONAL METHOD OF WAR IS TO BE OBLIVIOUS OF THE THREAT UNTIL WE GET OUR ASSES KICKED (PEARL HARBOR, 9/11) THEN RESPOND.
THERE IS ALSO A RECENT TENDENCY TO TRY TO CONVINCE OURSELVES THAT THE WAR ISN'T GOING WELL AND WE OUGHT TO QUIT. BOTH ARE TENDENCIES TO BE AVOIDED. UNFORTUNATELY A POSSIBLE LEGACY OF VIETNAM MIGHT BE THE ASPIRATIONS & TENACITY OF ISLAMIC TERRORISTS. ANOTHER LESSON IS THE TERRORISTS HAVE HAD SUCH SUCCESS WITH IEDS IN IRAQ THEY ARE NOW INCREASING THEIR USE IN AFGHANISTAN.

6. THERE IS A DISINCLINATION ON THE PART OF AMERICAN ELITES TO REALIZE THAT SOME ADVERSARIES (LIKE ANTS IN THE KITCHEN) CANNOT BE PERSUADED TO CHANGE AND MUST BE KILLED. WHILE THE SEARCH FOR ELABORATE LEGAL SCHEMES TO AVOID CONFLICT ARE LAUDABLE, AGAIN AS IN HOCKEY, COLLISIONS ARE INEVITABLE AND MUST BE EXPECTED AND PREPARED FOR.

7. ON THE BRIGHT SIDE WE HAVE BEEN SUCCESSFUL IN SUBSTITUTING MONEY FOR BLOOD. PAYING FOR ENHANCED MEDICAL CARE AT THE FRONT, ADVANCED TECHNOLOGY, AND IMPROVED ARMOR HAVE KEPT CASUALTY RATES IN IRAQ AND AFGHANISTAN LOWER THAN ANY WARS TO DATE. THE CASUALTY DATA IN WWII, KOREA AND VIETNAM WAS GENERALLY CENSORED BUT NOT WITH TODAY'S MEDIA. WHAT DO YOU THINK WOULD HAVE HAPPENED IF THE PUBLIC WAS AWARE THAT THOUSANDS DIED ON THE COAST OF ENGLAND REHERSING FOR THE NORMANDY LANDINGS? THEIR FAMILIES WERE INFORMED OF THEIR DEATHS BUT ALL ASSUMED THEY HAD BEEN KILLED IN COMBAT! I SERIOUSLY DOUBT WE WOULD HAVE LANDED IN NORMANDY. YET TODAY THE MEDIA IS PERMITTED TO TOUT THE WAR CASUALTIES ON A DAILY BASIS. CASUALTY RATES FROM THE WAR ARE FAR LESS THAN HIGHWAY DEATHS IN THE US IN A YEAR AND CONTINUE TO DECLINE. WHY DOESN'T THE PRESS LIST THE MURDERS IN OUR MAJOR CITIES SUCH AS NEW YORK, WASHINGTON, D.C. OR CHICAGO ON A DAILY, MONTHLY, AND YEARLY BASIS. IT MAY STIMULATE A DRIVE TO CONSERVE AMERICAN LIVES AT HOME.

8. LESS DESIRABLE IS THE TENDENCY OF AMERICAN ELITES TO PROJECT AN EIGHTEEN DIVISION FOREIGN POLICY SUPPORTED BY TEN DIVISIONS. A SIMILAR TENDENCY VERY LIKELY DOOMED THE BYZANTINES AT MANZIKERT IN 1071 (DON'T EVEN CONSIDER ASKING ME ABOUT THAT ONE). EVEN MORE RELEVANT IS THE STATUS OF OUR NAVAL FORCES TODAY. HAVE YOU LOOKED AT THE PIERS IN NORFOLK AND LITTLE CREEK LATELY. WHERE HAVE ALL THE SHIPS GONE? ARE WE OVER DEPLOYING TO THE EXTENT WE WILL NEVER CATCH UP WITH REQUIRED MAINTENANCE? DO YOU REALIZE USNS SHIPS ARE COUNTED AS PART OF NAVAL FORCE LEVELS WHEN THEY HAVE NOTHING INSTALLED FOR DEFENSE OR SYNERGISTIC ABILITY TO CONTRIBUTE TO EW? ARE YOU AWARE THAT THIS IS BECAUSE USNS CIVILIAN CREWS DO NOT WANT THEIR SHIPS CLASSIFIED AS COMBATANTS BECAUSE THEY WOULD BE SUBJECT TO ATTACK! ALL THE CIWS AND DEFENSIVE ARMAMENTS HAVE BEEN REMOVED. I BET THERE IS NOT ONE INDIVIDUAL SITTING IN THIS ROOM TODAY THAT IF HE WERE A TERRORIST OR ENEMY WOULD NOT TAKE THOSE ASSETS OUT FIRST! OUR CARRIERS CAN STEAM AROUND THE WORLD ON THEIR NUCLEAR POWER BUT ESCORT AND AIRCRAFT FUEL, AMMUNITION, AND FOOD ARE CRITICAL NEEDS WE CANNOT WIN THE WAR WITHOUT! I PERSONALLY COMPLETED A COST BENEFIT ANALYSIS ON MSC HAVING THE AOR'S AND AOE'S AS MSC ASSETS AND THERE WAS NO QUESTION THAT IT WOULD BE CHEAPER TO RUN THEM AS MSC SHIPS BUT AT WHAT COST TO THE FLEET IN WARTIME?

(FROM HERE TO THE END ARE MY WORDS EXCEPT WHERE QUOTED)

AS A CHIEF MATE ON USNS CHAUVENET CONDUCTING BOTTOM SURVEYS AROUND DOLMA ISLAND EAST OF QATAR DURING DESERT SHIELD, I FACED SIMILAR CHALLENGES. THE CIVILIAN CREW WAS TERRIFIED OF THE FACT WE COULD BE SUBJECT TO GAS ATTACK. DURING DECON DRILLS TO PREPARE THEM FOR THAT EVENTUALITY HOWEVER, ONE INDIVIDUAL PUSHED THE TOPSIDE GUARD FOR THE DECON STATION OUT OF THE WAY AND BURST INTO THE DECON STATION AND CONTAMINATED IT. HIS EXCUSE WAS THAT IT WAS TOO DAMN HOT IN THAT DECON SUIT! TOOK A GUARD WITH A 38 TO STOP THAT NONSENSE!

I LIKE YOU WAS A VOLUNTEER FOR RIVERINE DUTY. IN VIETNAM ALMOST ALL WHO SERVED IN AND WITH THE PATROL CRAFT WERE. IT WAS THE BEGINNING OF A YEAR THAT I CHARACTERIZE AS CHALLENGING INTERSPERSED WITH MOMENTS OF SHEER TERROR!!! YOU ARE AT THAT CROSSROADS NOW! THE YEARS AFTERWARD FOR ME IN THE SERVICE WERE INFLUENCED BY THE CONFIDENCE I GAINED MEETING THOSE CHALLENGES. WHERE WILL YOU BE IN 30 OR 40 YEARS?

I REPORTED TO VIETNAM 43 YEARS AGO AT THE AGE OF 30, LITTLE REALIZING WHAT WAR WAS TRULY ABOUT. SURE I HAD READ MANY BOOKS AND ARTICLES ON WARS PAST AND THOUGHT I KNEW WHAT IT WOULD BE LIKE. NONE HOWEVER INCLUDED OPERATING SMALL CRAFT AS WE DID ON THE WATERWAYS, CANALS AND FLOODED RICE PADDIES OF THE MEKONG DELTA. WHEN YOU ARE UNDER ATTACK OR EVEN SUBJECT TO ATTACK THE WORLD CHANGES AND YOU WILL CHANGE. WE ALL DID. THAT IS WHEN COMMITMENT TO YOUR CREWMATES IS MEASURED. STAND TALL!

I WAS PSYCHOLOGICALLY NOT PREPARED FOR THE FAR EAST. WHAT WERE CONSIDERED NORMAL LIVING CONDITIONS TO THE VIETNAMESE WERE DEPLORABLE TO AN AMERICAN. IT WAS WORSE THAN I COULD HAVE IMAGINED! THE HEALTH OF THE VIETNAMESE INCLUDED RAMPANT TB, BODY WORMS, MALARIA AND EVERY DISEASE THAT HAD BEEN ERADICATED IN THE US. WE HAD TO EAT THE SAME FOOD AS THE LOCAL POPULACE AS WE LIVED ON THE ECONOMY AND NOT IN A COMPOUND OR TENT CITY. IT WAS CULTURE SHOCK IN THE DEEPEST SENSE. KNOW EXACTLY WHAT YOU WILL FACE!

THE BEST HOSPITAL IN THE CENTER OF THE MEKONG DELTA AT CAN THO WAS IN ITSELF TERRIFYING. THE OVERALL ADMINISTRATION WAS UNDER DR. FRANK CAMP. HE WAS A MAJOR IN THE AIR FORCE, A DOUBLE BOARDED HEART SURGEON AND A SUPERB INDIVIDUAL. AS THE USAID APPOINTED DIRECTOR HE HAD A TEAM OF NURSES AND SOME OTHER USAID HIRED DOCTORS BUT THAT WAS IT. THE HOSPITAL HAD BEEN DESIGNED BY THE FRENCH AND IT WAS WORSE THAN CRUDE. THE EMERGENCY ADMISSIONS SECTION HAD THREE SLOPED PARALLEL SLABS OF ROUGH CONCRETE WITH A WELL AROUND EACH EDGE (LIKE A MEAT PLATTER) AND A TRASH CAN AT ONE CORNER TO CATCH BLOOD AND OTHER PARTS OF HUMAN BODIES. ONE AM TERRORISTS SET OFF A BOMB IN THE CROWDED MARKETPLACE OF TRAON. THE WOUNDED AND DYING WERE BROUGHT TO CAN THO BY THE PBR'S AND VN RAG CRAFT. I WAS SHUTTLING INDIVIDUALS TO THE HOSPITAL IN A JEEP WHEN I WAS GIVEN A YOUNG GIRL THE AGE OF MY OLDEST DAUGHTER. SHE WAS BANDAGED AROUND BOTH ARMS AND ACROSS HER CHEST. WHEN I INITIALLY HELD HER SHE WAS AFRAID OF THIS "ROUND EYE" BUT WHEN 10 MINUTES LATER I GENTLY LAID HER ON ONE OF THE CONCRETE SLABS SHE GAVE ME A WARM SMILE. THE DOCTORS CUT OFF HER BANDAGES AND HER RIGHT ARM WAS HELD ON BY ABOUT A HALF INCH OF FLESH WHICH THEY IMMEDIATELY CUT THRU AND THEN THREW THE ARM IN THE TRASH. (I WENT OUTSIDE AND THREW UP!) WHY DID THIS HAPPEN? IN WAR ZONES IN MOST THIRD WORLD COUNTRIES THERE ARE SO MANY CASUALTIES THAT ANY ELECTIVE SURGERY OR CARE IS NOT EVEN POSSIBLE. ONLY WHAT IS NECESSARY TO SAVE A LIFE IS ATTEMPTED. YOU PERSONALLY WILL BE BLESSED WITH RAPID MEDEVAC TO AMERICAN CARE BUT WHAT IF YOU ARE TASKED TO TRANSFER INDIVIDUAL CIVILIANS IN YOUR CRAFT TO OTHER THAN US RUN FACILITIES? WILL YOU KNOW WHERE TO GO? YOU SHOULD FIND OUT IN ADVANCE OF OPS!

WE ALL HAD BEEN INDOCTRINATED IN THE CLASSROOM ON "VIETNAM THE COUNTRY", WARNED OF ALL THE THINGS THE VIET CONG COULD DO TO US YET IT STILL DID NOT INSTILL IN US THE FACT THAT MOST IN THE FAR EAST REGARD "LIFE AS CHEAP". THAT UNFORTUNATELY IS ALSO TRUE IN IRAQ, IRAN, AFGHANISTAN, CHINA AND MANY OTHER PARTS OF THE WORLD TODAY. SOME AREAS TO WHICH YOU WILL BE DEPLOYING. TERRORISTS TRAINING INDIVIDUALS TO BE HUMAN BOMBERS AND KILLING THEIR OWN COUNTRYMEN IS ONE EXAMPLE BUT IT GOES FAR BEYOND THAT. BEING ABLE TO INFLICT PAIN CAUSING PERMANENT INJURY AND EVEN DEATH TO PRISONERS AS THE NORTH VIETNAMESE AND EARLIER THE JAPANESE AND GERMANS IN WWII DID, WITH NO REMORSE, IS ANOTHER EXAMPLE. IT IS JUST NOT SOMETHING WE AS AMERICANS CAN COMPREHEND. THANK GOD WE AS A COUNTRY RESPECT LIFE AND TREAT ALL INDIVIDUALS AS HUMAN BEINGS. THERE MAY BE TIMES WHEN YOU GET IN A FIREFIGHT AND HAVE YOUR SHIPMATES WOUNDED AND EVEN KILLED AND THEN TAKE SOME PRISONERS. I CAN ASSURE YOU THAT IT WILL TAKE THE STRONGEST MORAL COURAGE AND WILLPOWER YOU HAVE TO PROTECT THOSE INDIVIDUALS BUT YOU MUST DO SO! ARE YOU UP TO THE TASK? WILL YOU TURN THEM OVER TO HOST NATIONALS? YOU SHOULD KNOW BEFORE THE FACT WHAT THE CONSEQUENCES WILL BE IF YOU DO SO! AS THE UNIT CAPTURING THEM YOU ARE RESPONSIBLE FOR ENSURING THEY ARE TREATED IN ACCORDANCE WITH THE GENEVA CONVENTION!

I DO NOT KNOW WHAT YOUR PRE-DEPLOYMENT TRAINING ENCOMPASSES. ALL OF THE VOLUNTEERS WHO WERE TO SERVE IN COUNTRY IN VIETNAM WERE REQUIRED TO UNDERGO SURVIVAL, EVASION, RESISTANCE AND ESCAPE (SERE) TRAINING. WE WERE CRAMMED IN BLACK BOXES FOR AN HOUR SO SMALL THAT WE LITERALLY HAD TO BE DRAGGED TO THE SWEAT BOX BECAUSE WE COULD NOT MOVE OUR LIMBS, WE WERE WATER BOARDED, INTENSELY INTERROGATED, NOT PERMITTED TO SLEEP, AND SUBJECTED TO MANY OTHER CONDITIONS WHICH WERE TO SIMULATE WHAT WE COULD EXPECT IF CAPTURED. BELIEVE ME NONE OF US WANTED TO BECOME A POW AFTER THOSE TWO WEEKS. I PERSONALLY DO NOT CONSIDER ANY OF THAT AS TORTURE AS THE PRESS HAS CHARACTERIZED IT TODAY. I DO NOT KNOW WHAT ANY OF YOU WILL BE ABLE TO DO TO EXTRACT INFORMATION FROM ANY OF THE PRISONERS OR SUSPECTS YOU CAPTURE BUT YOU CAN BE SURE THEY WILL NOT VOLUNTEER ANY INFORMATION. THAT DATA WITHIN HOURS OF CAPTURE MAY SAVE MANY LIVES AND YOU NEED TO KNOW THE PROCESS YOU WILL FOLLOW TO OBTAIN IT.

WITH ALL THE NEW SYSTEMS AT YOUR DISPOSAL, YOU ARE DEPLOYING WITH THE BEST EQUIPMENT AVAILABLE HOWEVER I WOULD STRESS THE IMMEDIATE AVAILABILITY OF NOT ONLY AIR COVER BY FIXED WING AND HELOS BUT MEDEVAC. NO UNMANNED UAV WILL BE ABLE TO DO WHAT THE SEAWOLF HELOS LATER DID FOR US IN THE DELTA.

THE SERVICES MAY CLAIM THEY ARE WORKING JOINTLY BUT WILL YOU HAVE THEIR DAILY COMM PLANS. WILL B-52S DROP AN ENTIRE WEAPONS LOAD ON AN ADJACENT LANDMASS TO THE CANAL ON WHICH YOU ARE OPERATING. WITHOUT YOUR WARNING OF SUCH? THAT IN ITSELF IS A TERRIFYING EXPERIENCE. ENSURE YOU ARE AWARE OF ALL IMPENDING OPERATIONS IN YOUR PLANNED AREA OF OPERATIONS TO AVOID BLUE ON BLUE MISTAKES.

TRUST YOUR SHIPMATES AND EQUIPMENT. YOU HAVE THE BEST THERE IS AND THAT CRAFT YOU ARE RIDING MAY DO SOME IMPOSSIBLE THINGS IN THE HEAT OF BATTLE IF YOU HAVE PRACTICED EVERY POSSIBLE CONTINGENCY WITH IT!

IN CLOSING I WOULD ASK:

1. EACH OF YOU TO ELIMINATE THE WORD PROBLEM FROM YOUR VOCABULARY AND TO SUBSTITUTE THE WORD CHALLENGE. IF ON A FRIDAY MORNING AT QUARTERS YOUR CHIEF INFORMS YOU "WE HAVE A LOT OF PROBLEMS" YOUR IMMEDIATE REACTION IS "OH BOY, THERE GOES MY WEEKEND!" IF HOWEVER HE/SHE WOULD HAVE STATED, "WE HAVE A FEW CHALLENGES" IT IS A DIFFERENT MATTER. AN INDIVIDUAL WILL TURN THEIR BACK ON A PROBLEM BUT IT IS HUMAN NATURE TO JUMP TO A CHALLENGE. I CHANGED THE MOTTO OF USS SUMTER (LST-1181) TO "NO PROBLEMS JUST CHALLENGES" AND THE EFFECT WAS DRAMATIC. EVERY INSPECTOR THAT BOARDED THE SHIP LATER COMMENTED THEY COULD NOT PUT THEIR FINGER ON IT BUT THEY HAD NEVER BEEN ABOARD A SHIP WHICH HAD SUCH A POSITIVE ATTITUDE. WE NEVER FAILED AN INSPECTION NOR DID USS AUSTIN (LPD-4) LATER.

2, EVERYONE CAN MAKE A MISTAKE EVEN SERIOUS ONES. GIVE YOUR PERSONNEL A BREAK AND TRUST THEM NOT TO REPEAT IT. THEY WILL GIVE YOU 200% BACK. THIS MAY REQUIRE YOU TO BREAK MANDATED REGULATIONS BUT YOUR PEOPLE ARE WORTH THE RISK SO JUST DO IT!

3. HONOR THE DIGNITY OF INDIVIDUALS IN YOUR CREW AND UNIT REGARDLESS OF PERSONAL DIFFERENCES AND MAKE YOUR WORD YOUR BOND!

4. SPEAK UP FORCEFULLY IF YOU THINK THERE IS A BETTER WAY TO DO IT! YOUR INPUT IS IMPORTANT AND MAY SAVE LIVES! SENIORS ARE NOT ALWAYS RIGHT AND MAY HAVE MISSED THE OBVIOUS!

ONCE AGAIN I AM QUOTING THE AUTHOR BILL FERGUSON:
"ONE DAY WHEN YOU ARE ASKED WHAT YOU DID FOR YOUR COUNTRY DURING THIS WAR ON TERRORISM, YOUR CHEST WILL SWELL WITH PRIDE AS YOU REPLY, I SERVED IN THE RIVERINE NAVY!"

THANK-YOU!
Now, "the rest of the story:" If the last name of this speaker caught your eye, he is from a family of warriors, and his brother was BG Robin Olds, USAF.
Category: "Sea Stories", Coast Guard, History, Marines, Maritime Matters, Military, Military History, Navy | 4 Comments »