October 25th, 2010 by xformed
The anniversary of one of the most significant battles in US Naval history took place on Oct 25th, 1944, near the island of Leyte in the Philippines.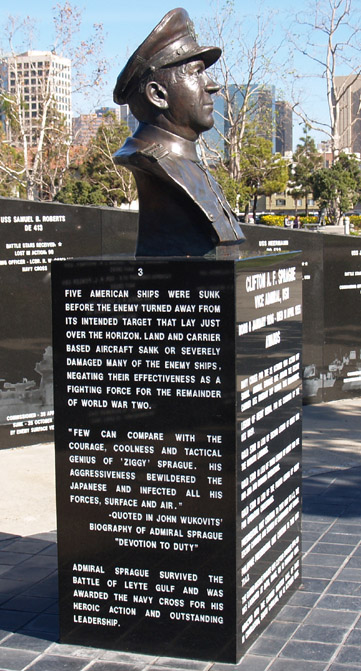 Monument to Taffy 3, lead by RADM Sprague, USN (click to enlarge)
The story of Taffy 3 at the Battle Off Samar has been the subject of many books, one that I particularly enjoyed was the "Last Stand of the Tin Can Sailors" by James Hornfischer.  Beyond the strategic and tactical discussions, it was filled with interviews of the men who survived, making it a very personal look at such a battle.  I have found this more than interesting, as my computer instructor was CAPT Amos T Hathaway, USN, and I served on the USS CARR (FFG-52), which was named after GM2 Paul Henry Carr, the MT 52 Gun Captain.  It was also the day an American Indian, CDR Ernest Evans, CO of USS JOHNSTON (DD_557), earned the Congressional Medal of Honor.
While I enjoy the history of "Black Shoes" fighting to the end in a war that became dominated by carrier warfare between opposing naval units, the aviators of Taffy 3 displayed the same courage, attacking Japanese battleships, and cruisers with the .50 and .30 caliber machine guns and in many cases, empty bomb and torpedo racks. They did so to add to the confusion of the Japanese crews, to help keep any effective volumes of fire from being focused on but a few targets.
In 2004, I did an extensive post on the battle.  You can read it here.  It was the final battle between surface combatants, and the story of desperate times, which crew rose to the challenge.
Category: Geo-Political, History, Maritime Matters, Military, Military History, Navy | Comments Off on 66 Years Ago Today: The Battle Off Samar