October 25th, 2011 by xformed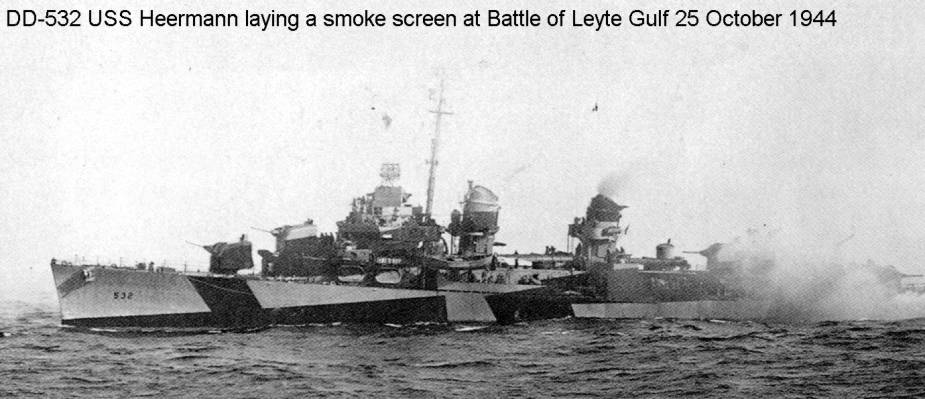 USS HEERMANN (DD-532) at the Battle off Samar (click for the larger image)
It is the last great sea battle to be fought. It demonstrated much of humanity, the determination of both sides in a massive world war, the individual bravery of men on small ships who charged head long into death, so that those they were tasked with escorting could complete their mission. The Japanese bravely pushed to wipe General MacArthur's "I Have Returned" landing at Leyte Gulf back into the sea, using the remaining surface forces of battleships and cruisers, only to be defeated by a ambushes the night before in the inland seas of the Philippine Islands, and on the morning of this day, 67 years ago, the likes of CDR Evans, CDR Hathaway, LCDR Copeland and their crews, while aircraft from the escorted CVEs made runs from above, many without bombs and some without even gun ammunition.
Rather than rewrite the story today, I will refer you to the work I produced in 2004, on the 60th Anniversary of this battle.
As I studied this battle more, I came across two other famous battles in history. I discussed them here, as they all have a common thread and a common day.
Side note: I found someone who, as s tribute to a friend, built an 8′ replica of the HEERMANN out of legos! That's some kind of dedication.
Category: History, Leadership, Maritime Matters, Military, Military History, Navy | 1 Comment »