August 10th, 2007 by xformed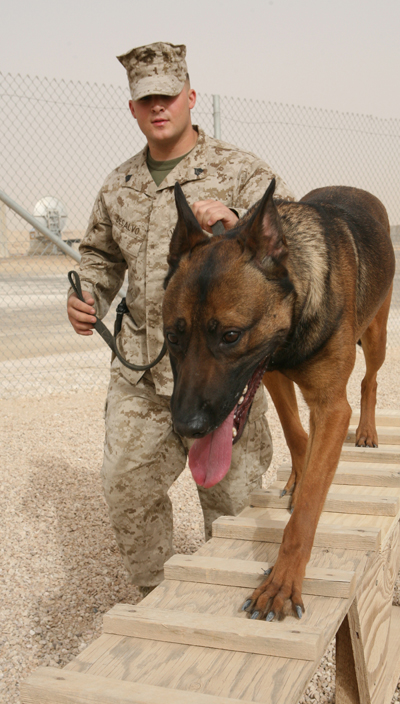 Photo Credit: DoD Photo
From CENTCOM News Feed today:
Four-legged war fighters dwell in new abode

10 Aug 07
By Cpl. Ryan R. Jackson
2nd Marine Aircraft Wing (FWD)

AL ASAD, Iraq — Throughout the theatre service members are continually asking for and receiving operational gear they need to accomplish their mission.

Sgt. Aaron DeSalvo, a military working dog handler, walks his dog Kelsey through the obedience course at the new kennel facility, July 18. The facility has an improved break yard and larger obedience course, which is used to improve the dog and handlers teamwork skills.The latest troops on Al Asad to get new mission essential equipment were the four-legged war fighters, more commonly known as military working dogs, of Task Force Military Police, 1st Battalion, 12th Marine Regiment, who received new kennels during a ribbon cutting ceremony, July 18.

The new kennels were approximately a year and a half in the making and cost approximately $400,000. The kennels are a huge step in the right direction to properly house and care for the dogs, according to 1st Lt. William Turner, military working dog officer in charge.

The facility features include running water and drainage, a rinse tub for washing the dogs, and larger training grounds and break areas.
[…]
This entry was posted on Friday, August 10th, 2007 at 4:34 pm and is filed under History, Marines, Military, Military History. You can follow any responses to this entry through the RSS 2.0 feed. Both comments and pings are currently closed.